Volunteering is a great way to make use of your skills, get involved with your local community and gain valuable experience while supporting the wïsh centre to reach help more young people who self harm.
Join us as a Trustee
Thank you for showing an interest in becoming a Trustee for the wïsh centre.
Please take some time to read our Trustee Information Pack and Treasurer Role Information.
Use the link to complete an online application form.
Any questions please contact info@thewishcentre.org.uk.
Treasurer Role Application Form
Fundraising Events
Sports and Challenges
In our London office
Music and Festivals
Skilled/professional/CREATIVE
Join a local fundraising group
With your company
Want to volunteer? Got one hour or more? Sign up to be a volunteer and make a real difference to young people who self harm.
Youth Volunteers (aged 13-25)
We are looking for young people who are passionate about the work that we do and want to get involved in workshops, public speaking, writing, social media, creativity (e.g. art, film making, theatre), fundraising, raising awareness and using your voice to champion youth mental health.
As part of our 3 year strategy to embed youth voice into our governance, comms and service development we are looking for young people to help us by contributing suggestions and ideas on how to make Wish better. Young people will be given vouchers for contributing their ideas and time. Email us on info@thewishcentre.org.uk to find our more and get involved.
Stage 1 – Website & Social Media
Front Page
We would like you to look through our front page and review the information we have on there. Our front page or main page of our website is what everyone will first see when they start.
What do you think of the Make a Referral or Self refer (14+) page
Start by filling out our referral form (link above)
What more information do we need to capture
What is useful or not useful
How can we make the language more accessible or inclusive, give us some examples of what you would change
Important information – Don't use personal details but use test in the name sections of this form so we know it isn't a genuine request.
4. Write an article for the WISH blog and social media; this could be a poem, piece of art etc.
5. Personal Story – 'My Journey with the WISH Centre'
Short video recording of your journey/ experience at wish:
Part 1: Writing out the script
Part 2: Filming – this can either be done on your own from your phone or we can do this at the WISH centre with a member of our team.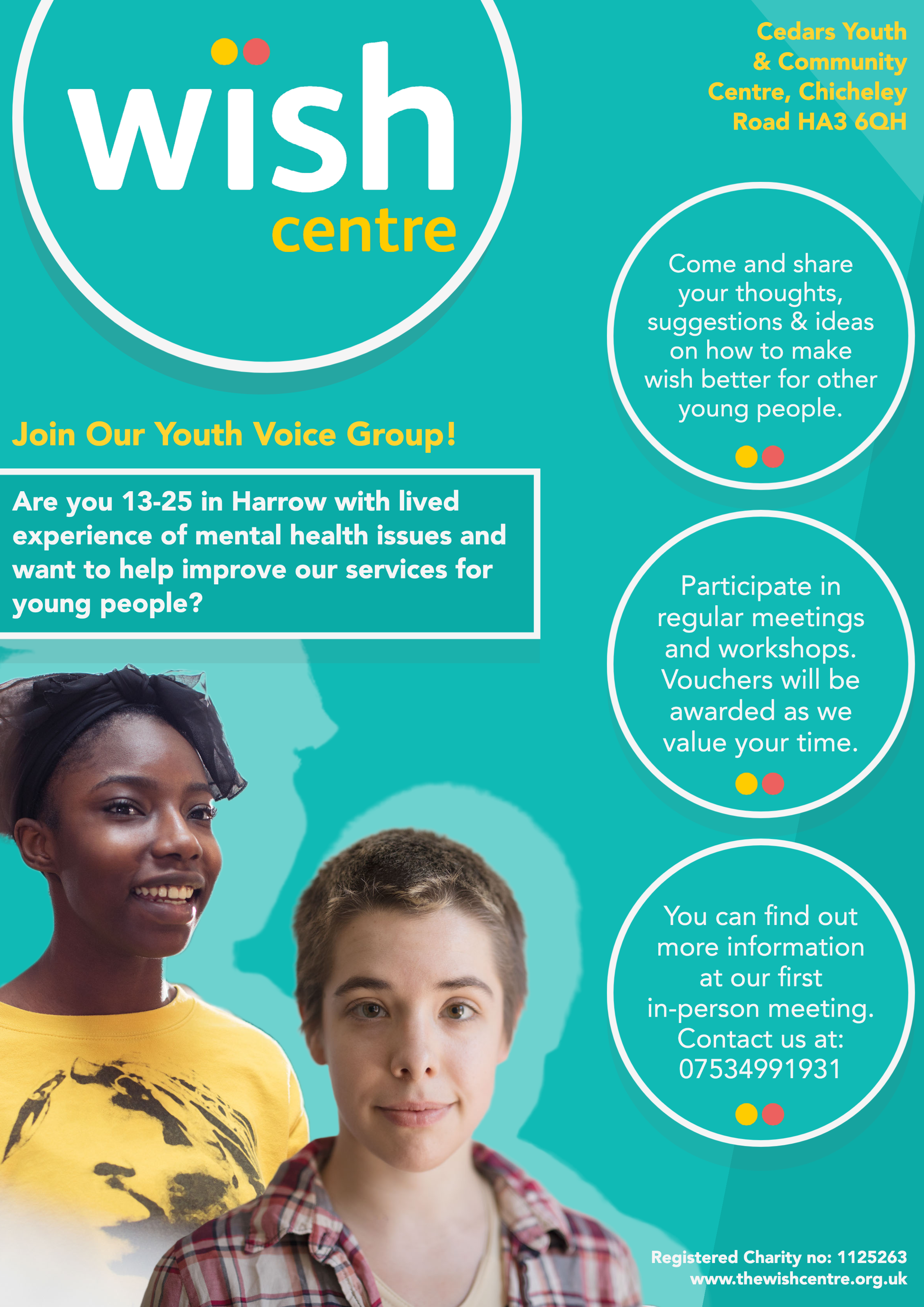 NCS Community Partners
The wïsh centre are a proud community partner for NCS and have been involved in some fantastic campaigns with young people over the years. If you would like us to be a partner for an upcoming programme contact us at hello@thewishcentre.org.uk.
Over 25s – Offer your time and skillset
Everyone who volunteers does so for very different reasons. Some do it to enhance their skills and CV, others to have a positive impact on a cause they feel strongly about, and others to meet new people and have fun.
The amount of time we ask volunteers to commit to varies depending on the opportunity. Some opportunities only ask volunteers to commit to a few hours on one particular day and others ask for a longer term commitment. We will always make it clear what time commitment we are asking of you and in most circumstances we can be flexible.
Unfortunately we are only able to offer very limited opportunities to volunteer directly with young people who self harm. Opportunities do come up occasionally and you are welcome to register your interest using our online form.
Become a Trustee
If you are interested in becoming a Trustee of the wïsh centre and are a young person with lived experience of self harm or are a community fundraiser or educational or mental health professional we would love to hear from you.
Our Volunteers
Our volunteers are some of the most dedicated people we know, and are determined to make life better for young people who self harm. Some of them support us because they recognise how vital our work is, and some of them have themselves or have friends or family members who have been supported directly by us. People just like you. We need you to help us to reach every young person who needs us. Will you join us?